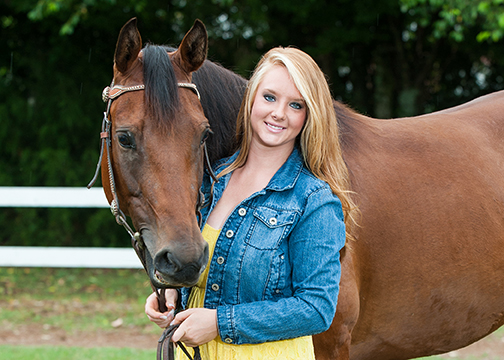 Carousel O Breeds is proud to feature profiles on their staff members, so you can get to know them a little better.  Our first feature is on one of our riding instructors, Mae Goggans …
Mae Goggans, 25 years old, is originally from Alabaster, Alabama, and currently resides in Columbiana, Alabama. She is a Dental Assistant at Medplex Pediatric Dentistry for Dr. Baker Chambliss in Hoover, Alabama.
Her hobbies include crafts, candle making, boating, side-by-side riding, fishing, cooking, volunteering, and most importantly, riding horses. Her love of horses started at an early age. She grew up riding her uncle's horses. At the age of 12, she finally got one of her own. From that point on, she has become a strong and caring horsewoman.
Some of her accomplishments and qualifications in the horse industry include:
2005- 2010 Shelby County 4-H Horse Club member
2006 – 2007 Shelby County 4-H Horse Club president
2008 Alabama Junior Rodeo Association member
2007 Alabama 4-H State Saddle Seat Champion
2007 Miss Horsemanship of Shelby County
2009 Alabama High School Rodeo Association member
2012-2016 Volunteer Leader for the Shelby County 4-H Horse Club
2014 – 2016 BDCTA Volunteer Coordinator
2015 Birmingham Dressage and Combined Training Association Western Dressage Highpoint Champion
2016 Sanctuary Cowboy Church 3D Barrel Champion
2016 Barrels, Heels, & Horns Benefit 4D Barrel Champion and Pole Bending Champion
Be sure to come by Carousel O Breeds to meet Mae and sign up for riding lessons. We're quite certain you'll be pleased with her skill level and the care which she takes with both horse and rider.